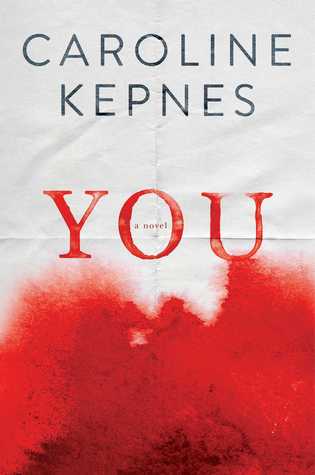 Synopsis from Goodreads: When a beautiful, aspiring writer strides into the East Village bookstore where Joe Goldberg works, he does what anyone would do: he Googles the name on her credit card.
There is only one Guinevere Beck in New York City. She has a public Facebook account and Tweets incessantly, telling Joe everything he needs to know: she is simply Beck to her friends, she went to Brown University, she lives on Bank Street, and she'll be at a bar in Brooklyn tonight—the perfect place for a "chance" meeting.
As Joe invisibly and obsessively takes control of Beck's life, he orchestrates a series of events to ensure Beck finds herself in his waiting arms. Moving from stalker to boyfriend, Joe transforms himself into Beck's perfect man, all while quietly removing the obstacles that stand in their way—even if it means murder.
My Thoughts:  This book I heard about on BookTube and I thought it would be a great read for October.  You by Caroline Kepnes was discussed in almost every video I watched and again I was excited to give it a try. I think it might have been over-hyped.  You is the story of a stalker and his "girlfriend/victim" told by the stalker's perspective.  It was an interesting point of view to read from.  It started off great but quickly changed its' tone for me.  The detailed descriptions of the perverse actions of the characters turned my stomach a bit.  I do not think that they were necessary for the story to be a good one.  I did want to know what happened so I read through to the end however, I will not be picking up the next book in this series.  I thought this was slightly better than my first read of the month and gave it 3 crowns.